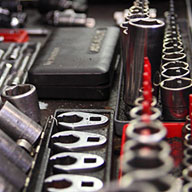 John's Toolbox
Did you know that preventive auto maintenance today could help you save money, time, and hassle in the future?  John's toolbox will offer you advice and resources to give you peace of mind about the safety and reliability of your auto.
Do you ever wonder why auto repair shops charge a diagnostic fee to tell you what's wrong with your car? Why should you be paying a mechanic just to figure out what's wrong? Shouldn't you only get a bill for repairs? The simple answer is that we have to charge for diagnostics if we want to stay in business. A mechanic who specializes in diagnostics is highly skilled, highly experienced, and can't work for free. Diagnostic service is often the most challenging service a repair shop can provide, but because the vehicle...
read more
A recent trend in the automobile service and repair business has been to promote shops as being "female friendly" in hopes of attracting and retaining women as loyal customers.  It turns out that 52% of the auto repair market is women, and shop owners may need a certain amount of appeal to keep them coming back for more, but what triggered all of the hype?  Some shop owners are even spending money to be "Certified Female Friendly." Do women really want to see "Certified Female Friendly" stickers in a shop's window? It's likely...
read more
Has anyone ever told you that putting too many keys (or other items) on your key ring can damage your car's ignition? While most of us only have a few keys we need to carry on a daily basis (i.e., car key, house key, mailbox key), many people use their key rings to carry unnecessary items like photos and souvenir items. The constant tug on the ignition switch produced by this excess weight can cause it to wear out prematurely. This appears to happen more frequently in Volkswagens, but any vehicle can be affected by this. So how much...
read more
There are some professions that have a reputation for taking advantage of their clients or customers. Typically, these tend to be professions where the general layman can't accomplish the task or job himself. By this measure, auto mechanics would make the list of professionals who could take advantage of their customers' lack of knowledge about their vehicles. At UpTown Auto, we operate by a list of guiding principals: The Auto Mechanic's Code of Ethics. We take great pride in knowing that every customer is treated to a...
read more
What Does a "Check Engine" Light Mean? Nearly every day here at UpTown, we receive a phone call from a customer who has a "Check Engine" light illuminated. These customers typically fall into several categories: The ones who have been driving around like that for some time (sometimes years), those who have taken the car to an auto parts store to have the codes pulled, and those who call for an appointment the moment they see that light. Let's first address the folks who drive around with a "Check...
read more