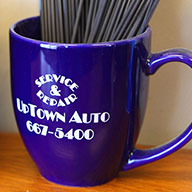 Contact Confirmation
Thank you for contacting UpTown Auto. We will be in touch shortly to schedule your appointment or answer your question.



Please:
Plan to drop off your vehicle between 8:00 and 9:00 a.m.
It's best if you can leave your vehicle with us for the day. These days, it simply isn't feasible to stock all the possible parts for every make and model of vehicle, so parts must be ordered and are delivered to us throughout the day.
Please make sure that your vehicle contains at least 1/4 tank of gas.